Compose &
Manage Projects
Import media files to your project. Drag & Drop multiple files (video, audio, images etc) to project in 1 Click

Add Multiple Clips To
Multiple Timeline
Select and drop multiple files (video, audio, images, etc.) to various timelines. For easy & clean editing, keep videos, audios, images in a separate timeline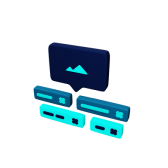 Compose
Title/Subtitle
Adding titles to your video has never been easier. Use one of 50 templates, or make your own in few clicks inside Title Editor.

Edit Video
Easily trim, slice, cut, or join multiple videos and audio clips on timelines to find those perfect moments.

Works On All Platform
Download & Start Editing On Your Computer Now. Works smoothly on Windows, Mac, and even Linux OS.

Unlimited
Timeline Tracks
Add as many timeline layers as you need for watermarks, background videos, audio tracks, and more.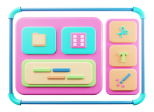 Add Media To
The Timeline
Select & drop one or multiple files (video, audio, images etc) to timeline in 1 Click

Easily Split Your
Clip From Anywhere
Cut and remove unwanted parts in each clip in 1 click. Keep relevant parts, join them and compose a perfect video

Add Background Music
To The Timeline
Add background music to the timeline, play, andsync it with other clips on multiple timelines for the best output.

Video Effects
Using our video effects engine, remove the background from your video, invert the colors, adjust brightness, and more

Render & Export Video
Select the desired format, Quality, & Click the Export button to get a beautiful output video within seconds. Ultra-fast rendering technology.

3D Animations
Render beautiful 3D animated titles and effects, such as snow, lens flares, or flying text.

Simple User
Interface
No Tech, Design, Or Editing Skills Required. This is the easiest and friendliest video editing software ever! Give it a try and see for yourself.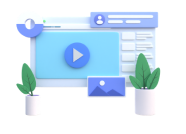 Preview
Your Clips
Play each video or audio on the timeline to preview and plan to edit

Adjust The Clip Length
By Simply Dragging It
Click and drag the clip horizontally (right or left) to control each clip length.

Add Audio Effects
Apply Fade In/Fade Out effect to the audio to enhance final video output. Also, to make audio editing simple, audio files will be visible as waveforms.

Slow Motion &
Time Effects
Control the power of time, reversing, slowing down, and speeding up video. Use a preset or animate the playback speed and direction.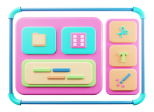 Animation &
Keyframes
Using our powerful animation framework, you can fade, slide, bounce, and animate anything in your video project.

Works In
70+ Languages
Compose a video in your language now. Simply change the language inside the app, and it can be translated online with Launchpad.